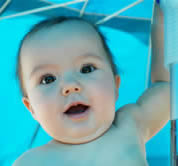 One of the most important aspects of taking care of a baby with eczema is finding the right baby lotion products. There are many products on the market, but sometimes there is only one particular brand that works for a baby. Each formula has its own list of ingredients, and some babies are sensitive to almost every ingredient there is. In addition, the lotion must be able to seal in moisture and provide good emollient action in order to be helpful for a baby with eczema.
Emollients are lotions that can feel greasy to the touch. They work by sealing water into dry skin so that it can't dry out. An example of such a product is plain old petroleum jelly. Many parents are unsure of using a petroleum product on their baby and prefer one of the alternative un-petroleum jelly products.
Another protectant ingredient with a chemical background is dimethicone. It is sometimes listed as an active ingredient in lotions. Dimethicone is related to silicone caulk and is even similar to one of the ingredients in silly putty. It is easy to see how an ingredient like that would be able to seal moisture into the skin, but some parents might find the idea of using chemicals like that on their baby to be unacceptable.
Natural ingredients used in good baby lotions include oils like jojoba, apricot, soy, or avocado. Herbal ingredients might include aloe vera, evening primrose oil, or calendula. Natural lotions often include nutrients, like vitamin E, which has been found to be very healing.
A good baby lotion for a baby with eczema needs to be very thick. It is best if it is unscented because the scent chemicals can be irritants for a baby with ultra-sensitive skin. The same goes for coloring. A good baby lotion does not have to be pink! Colorings can be irritating to baby skin.
Hopefully, the lotion won't be too expensive, because babies with eczema need to have lotion applied very often, as much as four or five times a day. Some of the brands that have been found effective for many families are Aveeno (which contains oatmeal), Eucerin Original Baby Lotion and Aquaphor (made by the same company), Burt's Bees, and Gentle Naturals. Many of the advertised brands of baby cosmetics are available in store brand or generic varieties, and sometimes the quality of the cheaper product is almost as good as the more expensive variety. It could be worth a try, especially if the best lotion you've found tends to be too expensive for your budget.